Nutrition
CLIF Bar is proud to be the Official Nutrition Sponsor of the 3M Half Marathon. That means we'll be on course with CLIF Shot® Energy Gel. The CLIF Shot Energy Zone will be at Mile 7.

On course flavors include Razz, Vanilla, Citrus and Mocha.

What is CLIF Shot® Energy Gel?
CLIF SHOT is a great-tasting sports nutrition line for performance athletes that delivers essential energy and hydration, plus fast muscle recovery, using organic and other nutritious ingredients. The CLIF SHOT line takes a streamlined approach to nutrition, delivering only what the body needs most while training and competing. Before, during, and after activity, performance athletes are covered with CLIF SHOT – including CLIF SHOT Bloks, CLIF SHOT Energy Gel, CLIF SHOT Electrolyte Hydration Drink Mix, and CLIF SHOT Protein Recovery Drink Mix.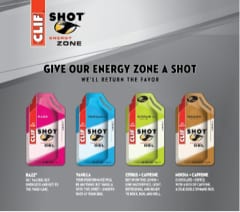 New to CLIF Shot?
Simply put, CLIF Shot® Energy Gel provides quick energy to athletes while racing and training. It is the only energy gel made with 85-90% organic ingredients giving athletes essential nutrition for performance.

How do you eat CLIF Shot Energy Gel?
Generally, performance athletes need to consume 200-400 calories per hour from all sources, such as gels, chewables, bars and drinks. We recommend consuming one packet 15 minutes before activity, followed by 2-3 packets per hour during activity to help support your needs.

Check us out at www.clifbar.com and be sure to stop by the booth at the Expo to try some of our food!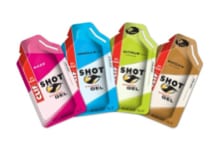 ClifCast
Check out ClifCast – the Podcast from CLIF Bar offering information and insights on sports nutrition for runners. Get the lowdown on proper nutrition, hydration, and other tips and tricks dedicated to getting the most out of your training and race day efforts.  www.clifbar.com/clifcast